Vindagua: Lee University's Biannual Magazine
Working as Lead Designer for Lee University's Vindagua has been a dream come true. Through each of the 130+ pages of Vindagua Issue 4, I helped tell the story of Spring 2018 through the perspectives of students and faculty who reside on our campus. Vindagua has always held a special place in my heart, so being able to take the design reigns and steer a wonderful brand in a new and exciting direction has been an amazing experience for me. 

​​​​​​​
Vindagua Issue 4 is 132 pages, 67 spreads, and 40 stories; created in 15 weeks.
With Issue 3 last semester, we saw "yesterday and today" which was a glimpse into the past and present of Lee University. Issue 4 looks to tomorrow so the designs, stories, and illustrations featured all come together to showcase the feeling of the future. A huge part of the design element I wanted to implement is color. So I have pulled in lots of colors to brighten up the issue as well as give the feeling one has of looking into a sunset. That's what I think of when I think of "tomorrow."
Deadlines are key to producing a publication each and every semester. My team and I create the publication from scratch each semester. Every story, photo, and illustration is curated and placed into the magazine by hand. There are no templates, no stock photos, no canned copy. Students have their hands all over this magazine and each and every part is created FOR students BY students. In order to get the semester's Vindagua in the student's hands by final exam time, it was my job to craft each and every spread in little under three weeks. First, the Vindagua team brainstormed ideas for this semester's issue, and then each section editor started to assign stories and photos to practicum writers and our photo team. In just a few weeks, content and photos started to roll in. I started to build a few spreads here or there, but my real crunch time began after our content deadline, just two weeks from my final design date. I worked over a time period of about two weeks to put together all 67 spreads in the 132 page publication, and just like that she was off to the printer. Many evenings of mine were spent in the office bent over InDesign making sure every single page was perfect. 
This is by far the most intensive and time-consuming design project I have ever taken on, but by far it has been the most rewarding. Vindagua pushes boundaries, not only in design, but in storytelling. No one expects this kind of publication to come out of a student media team at a small private college. I am so grateful for the opportunity Vindagua has given me, and the experience I have gained is unmeasurable. 
A before and after of an illustration on page 113. I scanned in the original drawing and then brought it into Photoshop to color it to match the rest of the issue.
Behind the scenes of "The Pursuit of Happiness" on page 56 and "The Ideals of Beauty" on page 78 with photographer Tessa Voccola.
Original sketches of the kombucha bottles used in "Kombucha Culture" on page 52. I printed out photos of each brand of kombucha and drew each one individually and then scanned them in, cleaned them up in Photoshop, and placed them in the spread. This was one of those last minute additions to Issue 4 (the night before my deadline, to be exact) that paid off so well. One of my favorite spreads. 
A new issue of Vindagua is released every semester on Reading Day [the day before Lee's finals begin].  I designed a series of posters to advertise for release day featuring the vibrant colors I used in the issue. I wanted the "V" motif to be seen all around campus, and the bold colors allowed the 11x17" posters to be seen from afar on all the buildings on campus. The posters were placed in groups of two, showcasing just how well the Issue 4 colors work in tandem. Release day was a success and my team and I handed out over 400 copies to students and faculty. We had free coffee, canvas totes, pencils, and stickers all embellished with the updated Vindagua branding I implemented this year. Our photo booth and lively playlists complemented the bright and cheery look of Issue 4. It was amazing to watch students flip through the new issue. Each page that I crafted tells the story of Spring 2018 sealing memories for years and years to come. 
This is the magic of Vindagua.
Online interactions are vital to the heartbeat of Lee's student population. It was imperative that Vindagua remained engaging and relevant to Lee students while communicating vital dates and events we hosted. Each post I designed grabbed the attention of the viewer through color, design elements and photography served as a long-form teaser for Issue 4 which came out at the end of the semester.
Lee University's biannual magazine is created by students, for students. The team who put together this issue's stories, illustrations, and photos were absolutely phenomenal at their jobs. I couldn't have made Issue 4 without them, and I am so thankful for this opportunity.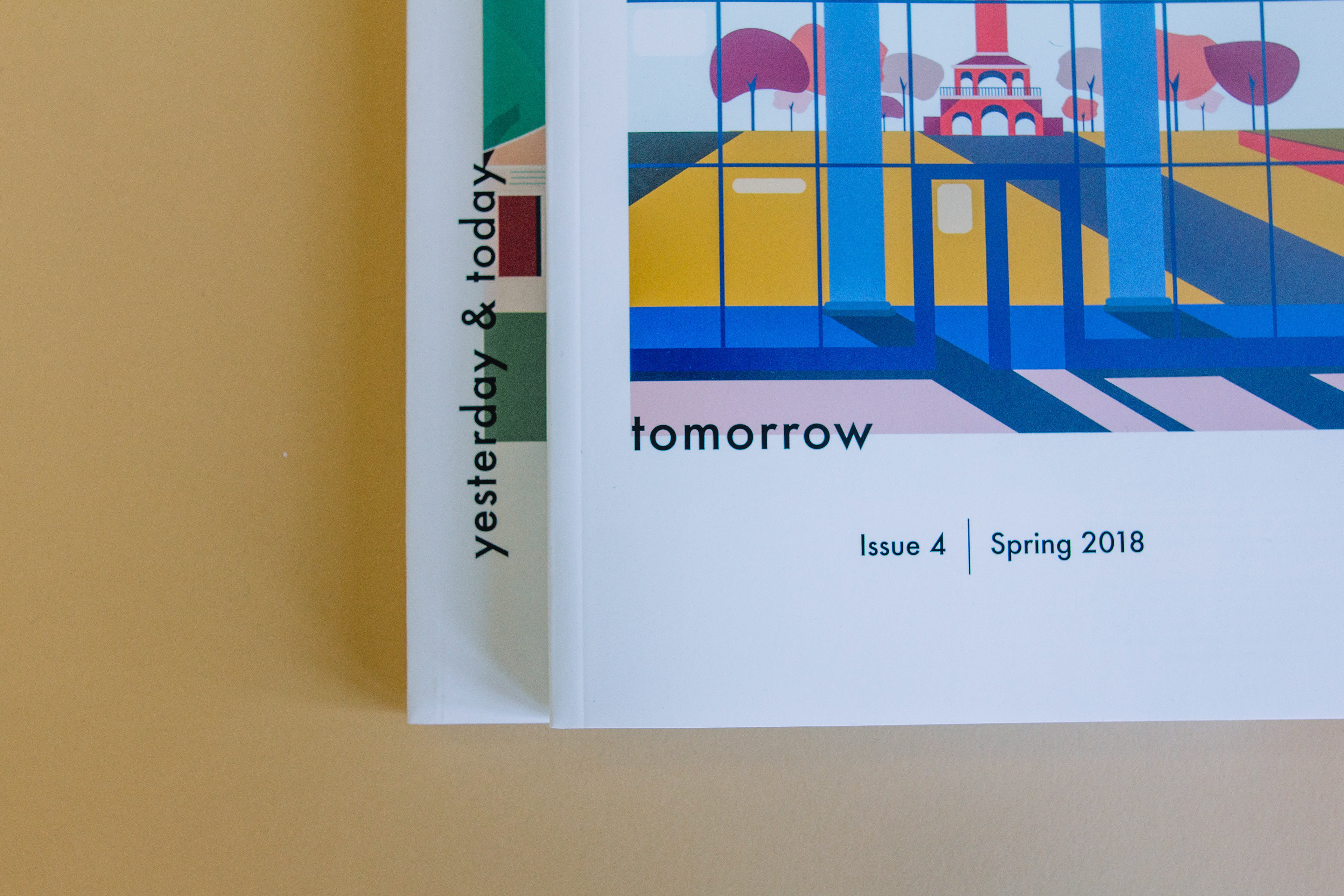 Julia Minucci, Editor-In-Chief & Creative Director
Kaitlyn Anderson, Lead Designer
Tianna Haas, Head of Copy
Jasmine Hill, Lifestyle Editor & Marketing Coordinator
Lisa Zimmer, Community Editor
Lauren Sutherland, Campus Editor
Naudia O'Steen, Feature Editor
Jaclyn DeVries, Managing Photo Editor
Tessa Voccola, Photographer
Halea Lingerfelt, Photographer
Megan Andrews, Photographer
Jay Luzardo, Photographer
Will Vest, Photographer
Gabri Newman, Photographer & Writer
Jordan Crocker, Illustrator
Ryan Davison, Illustrator
Oksana Ferenchuk, Illustrator
Gina Merson, Illustrator
Kelly Reamer, Illustrator
Savannah Stone, Illustrator
Sam Smith, Poet
John Johnson, Poet
Katherine Burney, Writer
Jenna Csepp, Writer
Chase Cullen, Writer
Zackery Dean, Writer
Ashlee Douglas, Writer
Alyssa Durham, Writer
Chloe Grabeman, Writer
Ellie Kassebaum, Writer
Chastin Kim, Writer
Rachel Kirkland, Writer
Grace Kuhlman, Writer
Amy Lewis, Writer
Forrest McFarland, Writer 
Addie Moses, Writer
Cierra Motes, Writer
Jessica Oliver, Writer
Seth Torres, Writer
Jordan White, Writer
Kensington Wieland, Writer
After hundreds of hours of work, it was only natural that I just pass out on the floor when I submitted the huge document to our printer. 
Vindagua Issue 4 is ADDY Certified

I have been honored to be a part of a communication program at my alma mater, Lee University, who values student success. We have taken home many ADDY awards through the years. The 2 issues of Vindagua that I had the privilege to design have both racked up more than 8 local awards and Issue 5 went on to score 2 Gold at the national ADDY awards in Florida, the highest honor the American Advertising Federation offers.