2020 On-Demand Broadcast
Everything was going to plan and we were prepping for 60+ in-person banquet-style High School Sports Awards events across the country when COVID-19 unexpectedly struck the United States and the world bringing businesses to a hault. The great minds in our team decided we had to bring more value to our sponsors. The show must go on...but safely. In just over a month and a half, our team successfully pivoted our entire live event plan to a network of 66 unique digital broadcasts which launched on June 18, 2020.
Marketing Pivot
As soon as the decision to pivot from live events to the digital broadcast was made, I had to kick it into high gear to recreate an entirely new set of marketing campaigns so we could launch the concept and reassure our sponsors as well as our award honorees and parents. All the event materials I had already created for the live events went out the window with new ideas for athlete gift boxes and digital event collateral replacing them. 
A huge focus of the new on-demand broadcast (ODB) was the opportunity to feature a larger amount of celebrity athletes than we have ever been able to have. Because the broadcast was pre-recorded, featuring lots of celebrities "at once" became possible. Thus, with all this star power behind us, the advertising focus became centered around the celebrities we booked for our broadcasts.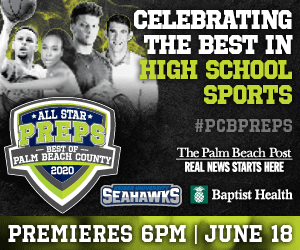 Part of my social media strategy was to create Facebook profile filters for the high school honorees to use as awards started to be announced in the show. A huge part of the hurdle of the on-demand broadcast was capturing the attention of our target audience and holding onto it for the duration of the broadcast. One solution was creating more opportunities for interaction on social media.
Event Materials
While the in-person events were no longer happening, there were still a few event materials I created that were shipped to sponsors or honorees. I created headshots for each of the A-list celebrities we booked. Part of their contract was to sign these headshots so we could give them to our sponsors. We sent athlete gift boxes to each registered honoree which had a custom die cut medals, event program, social media engagement cards, and a certificate with their name, sport, and school printed on it. 
Headshots our celebrities signed for the sponsor packages
Athlete Gift Boxes
Each registered athlete received a custom gift box with a certificate with their name on it, a program detailing their area-specific show, and a custom die-cut medal with sponsor logos.
Certificates
Each student honored in every show receives a certificate with their name, school, and sport printed on it. If you can imagine, that is many many MANY certificates that are custom designed for every property every single year. Some of our larger markets have over 600 students, so it's quite a task. Before I came onto the team, we were copy and pasting every single name, school and sport for each certificate. However, it is much faster to use the data merge function in InDesign to complete this variable data action in minutes. Usually, I can run the certificates in about 10 minutes and quickly check through for formatting issues. Game-changer is an understatement for this process. 
66 on-demand broadcasts
57,000 lifetime views | 20 a-list celebrities
Major Winner Screen
Each broadcast had about 12 winners for their awards and we needed to quickly make winner screens that the video team could input into the show. I set all of these screens up to use the data merge function in InDesign so I could run all the information, photos and sponsor logos at once to save a bunch of time.
All-Athlete Credits Scroll
Some of our shows featured a Star-Wars style all-athlete scroll at the end which had every honoree name for the property. I created these scrolls as large transparent photos using InDesign data merge.